Federated Identity Service
RadiantOne, RadiantLogic's Virtual Directory Server, helps organizations implement identity management and e-business initiatives by providing all the necessary identity information wherever it is stored.
For example, RadiantOne allows identity information created with SailPoint IdentityIQ and stored in the SailPoint database to be virtualized and stored in a directory. LDAP, WAM and Federation applications can then easily access this authorized directory source.
RadiantOne Virtual Directory Server is used by a number of Fortune 500 companies worldwide. Companies such as Chrysler, Ringier, Telecom Italia and Freddie Mac use RadiantOne to accelerate application development, target integrations and reduce the cost of identity management projects. Partnerships with major identity management software vendors and professional services companies illustrate the broad impact of virtual directory technology on the identity management market.
RadiantOne creates a fast and secure ROI by reducing administrative overhead, simplifying integration tasks and adding value to IT investments.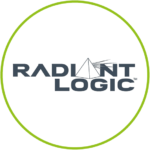 Learn more about Radiant Logic
We would be happy to advise you on Radiant Logic solutions and our services.