KOGIT ist wieder Top Delivery Partner – SailPoint zeichnet KOGIT im 2. Jahr in Folge als "Delivery Admiral" aus
03.02.20 – Bereits im 2. Jahr in Folge zeichnet SailPoint die Top Delivery Partner aus und wählt sie wieder in den Admirals Club. KOGIT ist auch in diesem Jahr wieder der einzige deutsche Partner, der es in den Delivery Admirals Club geschafft hat. "Wir sind stolz, auch in diesem Jahr wieder zu den Top Delivery Partnern für SailPoint zu gehören. Das ist eine große Ehre und zeigt uns, dass SailPoint und insbesondere unsere Kunden sehr zufrieden mit unserer Arbeit sind", so Gerald Kaufhold (CEO). "Unser Ziel ist es, auch in 2020 wieder viele spannende SailPoint-Projekte umzusetzen."
Nicht nur wir haben es in den Admirals Club 2019 geschafft, als einzige andere europäische SailPoint Partner wurden auch unser IDA-Partner Grabowsky und ID North für 2019 erstmals als SailPoint Delivery Admirals ausgezeichnet.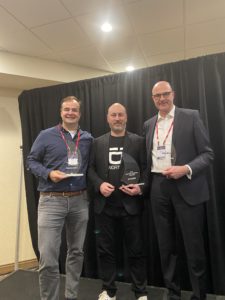 Die Identity Driven Alliance – kurz IDA – ist ein Zusammenschluss der drei führenden europäischen Beratungsunternehmen für Identity- und Access-Management und Identity Governance-Lösungen: KOGIT GmbH, Grabowsky BV (aus den Niederlanden) und ID North (aus Schweden). Gemeinsam verfügen wir über einen Pool von mehr als 150 Spezialisten mit langjähriger Projekt- und Berufserfahrung. Das ermöglicht es uns, auf die Expertisen der IDA-Partner zurückzugreifen und größere Projekte umzusetzen.
Die SailPoint Delivery Admirals werden auf Grund bestimmter Kriterien gewählt.
Neben erfolgreich durchgeführten Implementierungen bewertet SailPoint auch das Engagement der Partner und die Teilnahme an Weiterbildungskursen und Schulungen.
Zudem müssen von den Partnern folgende Kriterien erfüllt werden:
Eine durchschnittliche Kundengesundheitsquote mindestens 70 Punkten
6 abgeschlossene Deployments/Einsätze innerhalb des letzten Jahres
3 zertifizierte IdentityIQ-Ingenieure
2 zertifizierte IdentityIQ Architects
Kann SailPoint On-premise und Cloud-Lösungen implementieren
SailPoint Honors Global Partners at SKO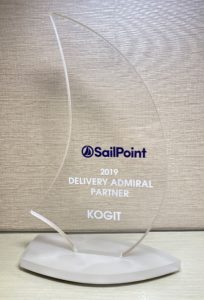 (January 31, 2020) Our worldwide partner network is vital in ensuring our customers receive the care and attention to detail they need to drive quick cybersecurity results with SailPoint. This week at our annual Sales Kickoff, we'd like to take a minute to celebrate our most successful partners in the past year.
Our partner network plays a crucial part in our commitment to our customers, helping us maintain a 95%+ customer retention record. Our partners are critical to extending our reach as more enterprises today recognize the importance of adopting an identity-first cybersecurity strategy.
SailPoint is pleased to announce our Partner of the Year awards
Deloitte | Global Alliances Partner of the Year
Optiv | Global Channel Partner of the Year
IDMWORKS | AMS Partner of theYear
Grabowsky | EMEA Partner of the Year
IIM Corporation | APAC Partner of the Year
For a second year, we are also honoring our partners with a proven ability to deliver rapid ROI and value to our customers with our 'Delivery Admiral' program, and for the first time this year including our partners in the APAC region. The honorees are selected based on their track record of delivering multiple, successful implementations with highly satisfied customers. These honorees have shown their commitment to SailPoint, by investing in their consultants' technical training and certifications, and staying current on all things SailPoint, including the recent launch of SailPoint Predictive Identity. The 2019 SailPoint Delivery Admirals include Accenture, Column, Decipher Works, Deloitte, Edgile, EY, Focal Point, Gamatech, Grabowsky, Identropy, IDMWORKS, ID North, Infocentric, Integral Partners, KeyData, KPMG, KOGIT, NetBR, Optiv, Puleng Technologies, and PwC.  It's with our partners that we continue to bring innovative solutions to our customers. To our newly appointed 2019 Delivery Admirals and Partner of the Year winners, thank you.
(Copyright © 2020. SailPoint Technologies Holdings, Inc. All Rights Reserved.)