As a strategic partner of SailPoint, KOGIT has collected over 10,000 man-days of experience in SailPoint projects since 2007. In addition to the implementation of SailPoint customer solutions, we have also specialized in the provision of 1st and 2nd level solution support.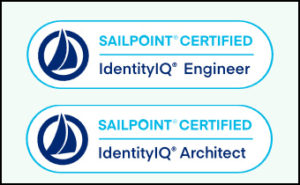 Of our more than 30 SailPoint specialists, 5 have over 10 years of experience in the design, implementation and support of IAM/IAG solutions. KOGIT is the only consulting and implementation partner in Europe offering product support for SailPoint IdentityIQ. This underlines our strong focus on SailPoint as a strategic partner.
KOGIT was selected as one of the few SailPoint partners to participate in the new Certified Identity Professional Program. The first four KOGIT employees have already successfully completed the certification as IdentityIQ Engineers and two more as IdentityIQ Architects. Our goal is to have all our consultants from the IIQ area certified as IdentityIQ Engineers in the near future.
SailPoint elects KOGIT to the Delivery Admirals Club for the 2nd year in a row

We are once again top SailPoint Delivery Partner: After 2018, KOGIT is once again the only German partner to be named Top16 SailPoint Delivery Admiral in 2019. We are very proud of this award and are delighted to be among the top partners again this year.

In 2015 we were awarded "Partner of the Year Europe" by SailPoint. In 2018, SailPoint awarded the Top16 Delivery Partners Worldwide for the first time in addition to the 4 Top Partners for the regions America, EMEA, APAC and Worldwide and elected them into the Admirals Club. KOGIT is proud to be the only German SailPoint Partner that was selected for the  Top16 Delivery Admiral 2018.
Year of experience with IAM/IAG solutions
Years of SailPoint partnership
Experienced SailPoint specialists
Mandays SailPoint project experience
OnPremise and Cloud
As a pioneer in the industry – selected for multiple consecutive years into the Gartner's Magic Quadrant by the leading Identity Governance & Administration vendor Gartner – SailPoint specializes in helping organizations meet ever-increasing compliance requirements, audit controls, and strategic risk management associated with user access to sensitive applications and data – in the enterprise, on mobile devices, or in the cloud. SailPoint's next-generation risk management technology fully meets today's governance, risk management and compliance requirements. With its innovative product portfolio, the fastest growing independent IAM vendor offers identity governance, provisioning and access management solutions both on-premise and in the cloud (IAM-as-a-service).
SailPoint IdentityIQ - a complete and yet open identity platform
SailPoint IdentityIQ™ is a complete governance-based identity and access management solution that provides fast and convenient access to productivity-enhancing applications and access controls for guaranteed business security. IdentityIQ combines governance, provisioning and access management in a unified solution that leverages a common identity governance framework. So you can consistently enforce corporate and security policies, roles, and risk models across all IAM activities. SailPoint IdentityIQ offers companies the following benefits:
Compliance through automated access permissions and policy management
Independent request and reset of passwords by the user
Automatic provisioning throughout the user lifecycle by simplifying processes for granting, changing, and revoking access permissions
Secure and convenient access to all applications from any device
View access rights as a decision basis and to fulfill audit requirements as needed
Easy login to Web and SaaS applications with a single password
Improve visibility into user access from the datacenter to the cloud and proactively enforce risk-based controls
Smooth transition from on-site IAM to IAM-as-a-Service (IDaaS) at the right time
With the new KOGIT IAM-Architecture Board for SailPoint IIQ we offer our customers services and documental services (e.g. Code Reviews and Code Guideline Lists), which offer an extension to the functions of IdentityIQ.
Our experienced IAM specialists will be happy to advise you whether IdentityIQ is the right solution for your needs. Contact us directly or click here for more information:
KOGIT Plugin Library for SailPoint IdentityIQ
A software solution does not always offer all the components a company needs. In order to implement the best possible Identity & Access Management solution for our customers, we at KOGIT have developed plugins that integrate seamlessly into SailPoint IdentityIQ and offer added value for our customers. Our KOGIT Plugin Library includes the SoD Matrix Plugin, the IIQ History Plugin, the Role Analytics Plugin, the SAP OM Importer Plugin, as well as the AdOns SailPointTester and SailPoint2Doc.
IdentityNow - comprehensive, cloud-based (IDaaS)
With IdentityNow, KOGIT partner SailPoint offers a software solution for the management of users and access rights in hybrid environments. IdentityNow itself is 100% cloud-based and offers Identity & Access Management as Software as a Service (IDaaS). This includes the provision of user accounts for new employees with predefined authorizations and centralized user lifecycle management. As more and more companies are using cloud solutions and access to sensitive data is no longer tied to a physical workstation, it is becoming increasingly important to be able to quickly revoke assigned rights as soon as the employee leaves the company. Such governance in the cloud is currently only offered by IdentityNow.
IdentityNow Single Sign-On also provides secure, one-click access to all applications from any device (desktop, tablet, smartphone). Password management makes it easy to reset passwords on demand, unlock accounts and verify user data. IdentityNow Access Certification can centrally verify existing access rights within organizations – minimizing the risk of unauthorized access to sensitive data. The automated tool not only makes the audit process more effective, but also improves compliance and audit performance. Compliance with the previously defined standards becomes visible and evaluable company-wide.
All functions are simple and intuitive to use. The technical rights are presented in a comprehensible way so that even employees without IT knowledge can judge whether the assignment of rights to the individual employee is appropriate. For the implementation of the individual corporate strategy for access and user data management, companies can rely on the extensive expertise of the KOGIT consultants.
The cloud-based solution offers even more advantages. Unlike locally installed software, no additional software or hardware has to be purchased, operated or maintained. There are no more costly local upgrades – all IdentityNow users always work with the latest version. Furthermore, the cloud technology developed by SailPoint is based on a patented "Zero Knowledge Encryption" – the sensitive data can only be decrypted again with the corresponding private key, which is located within the virtual appliance at the customer. Even SailPoint itself has no possibility to decrypt them. IdentityNow thus offers more security than other solutions on the market – in contrast to the widespread image of the "precarious cloud".
File Access Manager - comprehensive access control for unstructured data
Managing access to unstructured data is a growing problem in any organization. The amount of data stored on file servers, mailboxes and in the cloud has grown exponentially in recent years. Experts estimate that about 90 percent of the data generated in companies is now unstructured. Without simple means to monitor, control and protect this unstructured data, organizations are taking huge risks in terms of security and compliance.
With the SailPoint File Access Manager (short FAM, previously SecurityIQ), organizations can centrally manage and control access to unstructured data by applying unified administrative processes, policies and controls across all systems. With FAM, you can identify where sensitive data exists, who has access to it, and how that data is used to enforce effective controls to protect the data. FAM helps meet regulatory requirements by performing compliance audits and increases productivity by reducing the time spent on diagnostics, forensic analysis and data management tasks.
Are you at risk?
Do you also expose your company to a security risk because you do not have a complete overview of the critical company data and therefore do not protect it adequately?
Digital identities at the center of your security strategy
For more information or a personal consultation for SailPoint's IAM solutions and products please get in touch with us.