As a strategic partner of SailPoint, KOGIT has collected over 10,000 man-days of experience in SailPoint projects since 2007. In addition to the implementation of SailPoint customer solutions, we have also specialized in the provision of 1st and 2nd level solution support.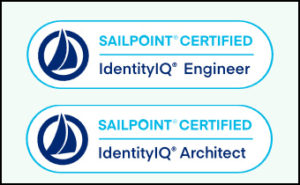 Of our more than 30 SailPoint specialists, 5 have over 10 years of experience in the design, implementation and support of IAM/IAG solutions. KOGIT is the only consulting and implementation partner in Europe offering product support for SailPoint IdentityIQ. This underlines our strong focus on SailPoint as a strategic partner.
KOGIT was selected as one of the few SailPoint partners to participate in the new Certified Identity Professional Program. The first four KOGIT employees have already successfully completed the certification as IdentityIQ Engineers and two more as IdentityIQ Architects. Our goal is to have all our consultants from the IIQ area certified as IdentityIQ Engineers in the near future.
SailPoint elects KOGIT to the Delivery Admirals Club for the 2nd year in a row

We are once again top SailPoint Delivery Partner: After 2018 and 2019, KOGIT is once again the only German partner to be named Top16 SailPoint Delivery Admiral in 2020. We are very proud of this award and are delighted to be among the top partners again this year.

In 2015 we were awarded "Partner of the Year Europe" by SailPoint. In 2018, SailPoint awarded the Top16 Delivery Partners Worldwide for the first time in addition to the 4 Top Partners for the regions America, EMEA, APAC and Worldwide and elected them into the Admirals Club. KOGIT is proud to be the only German SailPoint Partner that was selected for the  Top16 Delivery Admiral 2018 and 2019.
Year of experience with IAM/IAG solutions
Years of SailPoint partnership
Experienced SailPoint specialists
Mandays SailPoint project experience
OnPremise and Cloud
As a pioneer in the industry – selected for multiple consecutive years into the Gartner's Magic Quadrant by the leading Identity Governance & Administration vendor Gartner – SailPoint specializes in helping organizations meet ever-increasing compliance requirements, audit controls, and strategic risk management associated with user access to sensitive applications and data – in the enterprise, on mobile devices, or in the cloud. SailPoint's next-generation risk management technology fully meets today's governance, risk management and compliance requirements. With its innovative product portfolio, the fastest growing independent IAM vendor offers identity governance, provisioning and access management solutions both on-premise and in the cloud (IAM-as-a-service).
Digital identities at the center of your security strategy
For more information or a personal consultation for SailPoint's IAM solutions and products please get in touch with us.